Product
Introducing the Activity Log
By Emmie Atwood, Content Manager · February 03, 2022
Evelyn, a legals rep at her local newspaper, was getting too many email notifications. Her inundated inbox made it easy for her to miss the notification from Column alerting her to a recent cancellation of a notice by one of her public notice clients. Instead, Evelyn realized that this notice was canceled only later when she logged into her Column account and saw that things looked awry, but she had no idea why or when such a cancellation took place, or who made the call to cancel the notice.
In this scenario, Evelyn would have to reach out to the Column Support team for help. She often contacted them with any number of questions about the recent activity on her Column dashboard, the answers to which were buried in a slush of email notifications: Who canceled this notice? Why was this notice canceled? When was this notice canceled? Who confirmed this notice? Who edited this notice? Was the invoice for this notice mailed to the advertiser? Was the affidavit for this notice mailed to the advertiser? Has this notice synced since edits were made?
These were questions that the Column Support team received daily, and not just from Evelyn. For a long time, many Column users experienced confusion when it came to tracking key actions that transpired on their notices and the Support team had been the only place for them to go for answers.
Not anymore. This week, the Product Team at Column released a new feature to the notices dashboard—the long-awaited Activity Log. The Activity Log records all actions taken on a user's public notices so that users now have the option to see when notices are submitted, invoices created, affidavits uploaded, and more — all directly on the Notice Details page.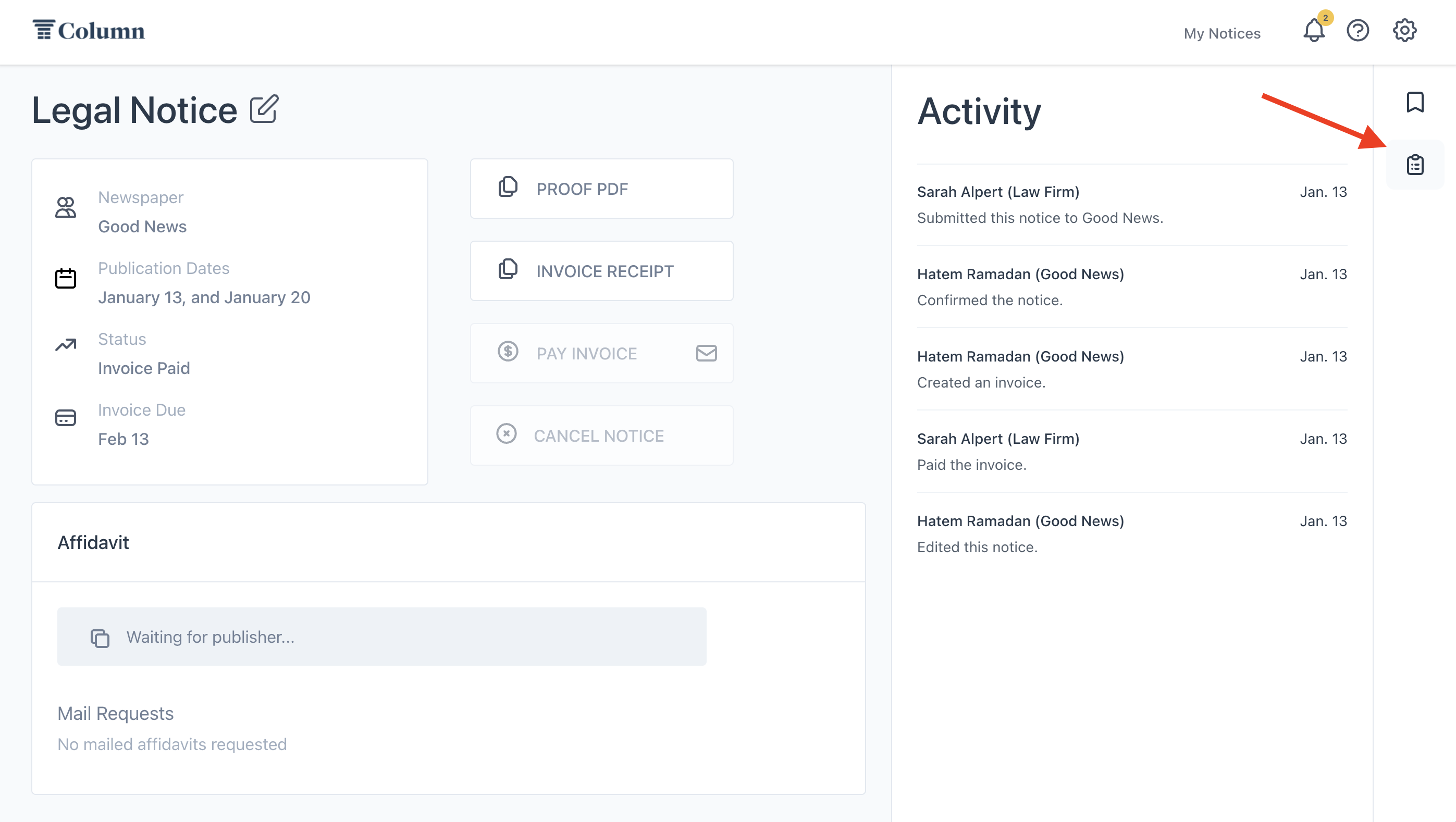 "The Activity Log is one of the most exciting features I've contributed to at Column," said Sarah Alpert, an Assistant Product Manager at Column, about this new feature. "Our users have never been able to see the full history of the notices they place in Column, but that information can be so important to the public notice process. Now, customers can see, down to the minute, when a notice was submitted or an affidavit uploaded — and they don't have to contact our team to get those details."
The Activity Log empowers Column users with deeper insight into all the actions that occur on their dashboard. It gives answers right away so that everyone can be saved from the inconvenience of having to reach out to someone else for help. "We've already seen many users engaging with the activity log to track the history of their notices," said Emily Meffert, Customer Support Lead at Column, "and we expect that this tool will continue to enhance users' self-sufficiency, allowing them to access additional insights about the notices they place and publish. We're excited to empower advertisers and publishers in this way, and to heighten the value that they gain from using Column."
The Activity Log will make the process of placing or publishing notices smoother and more transparent. It will also spare Evelyn the dreadful task of wading through email notifications to find answers to her questions. Now, she can simply visit the Activity Log by clicking the "Activity" button to the right of the Preview panel. There she'll find an up-to-date timeline of all actions taken on a notice.